---
Rambling Round Ireland
A Commodius Vicus of Recirculation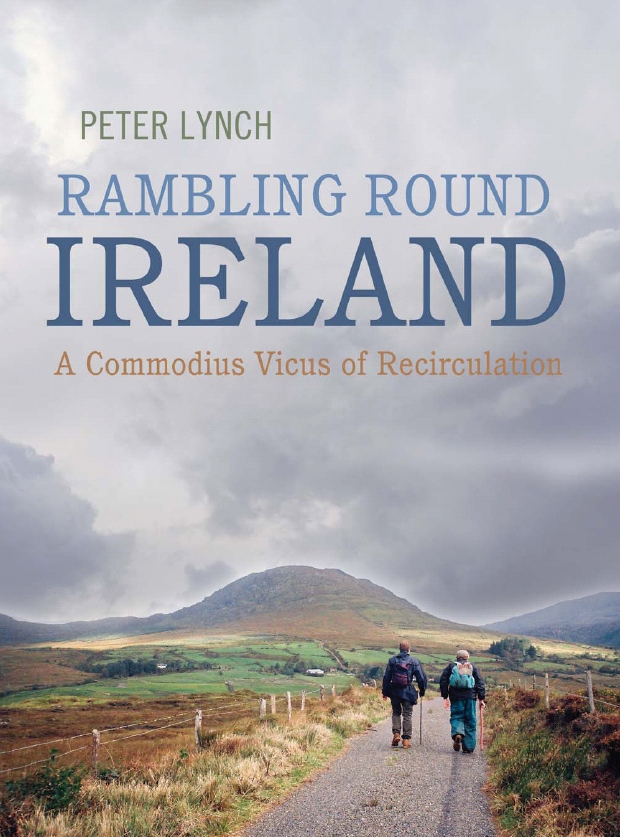 Book, published by Liffey Press, to be published in November 2010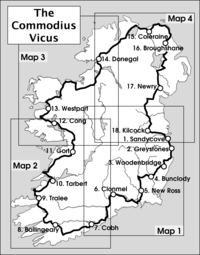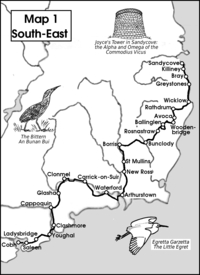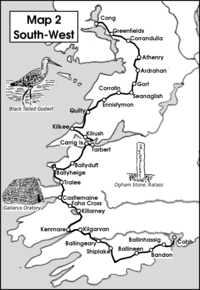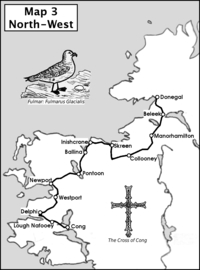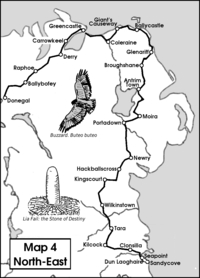 Where did I go? Click maps above for bigger versions.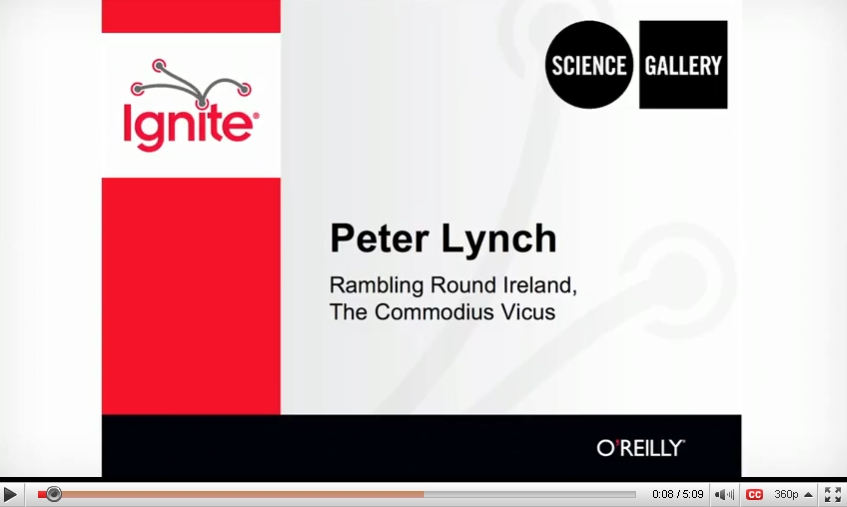 Click panel above for video on YouTube.
The route of the Commodius Vicus is shown on the maps above.
A talk at Ignite#3 in Trinity College Dublin on 11 March 2010 is available on YouTube
An article by Claire O'Connell, Coasting around Ireland, in the Irish Times, describes the walk.
[If you cannot access the Irish Times, click here]
A book about the walk is in preparation. Here is a sample:
For a small selection of photographs from the walk around Ireland, click here.
---
riverrun, past Eve and Adam's, from swerve of shore to bend of bay, brings us by a commodius vicus of recirculation back to Howth Castle and Environs.
Finnegans Wake. James Joyce.
---
Summary
Everywhere in Ireland there is something of interest or beauty or wonder. It might be a spectacular landscape, or some fascinating industrial curiosity, or just a conversational encounter with one of the gentle people of the country. This is the story of a journey around Ireland, on foot over many years, and of the little adventures that befell the rambler on his way.
While the land became inundated with mobile phones and iPods, and the Celtic Tiger roared briefly before slinking back to his lair, this happy wanderer hobbled onward round the coastal counties, soaking up the landscape (sometimes literally) and enjoying the company of chance-met people. This generous journey --- this commodius vicus --- was part pilgrimage, part adventure travel, part educational tour and part zen experience, but above all it was enormous fun.
It was great fun, rambling round the coastal counties of Ireland. Sometimes I was alone, more often with friends. Nothing bad happened: no muggings, no robberies, no accidents, no serious mishaps; indeed, nothing at all, really, yet it was a wonderful adventure. Almost everyone I met was pleasant and the one or two exceptions were a source of innocent merriment. Each day brought new and interesting things to see.
I was in no hurry; just as well, since it took thirteen years to circumambulate the country. There was only one rule: the rambles should all join up to form a continuous circuit of Ireland. A few stages were done out of sequence and a few in reverse direction, but together they formed a complete route around the island. The acme would have been to follow the shoreline. But with our convoluted coast (mathematicians call such curves fractals) this would require an indefinite time to complete, so I chose a less wiggly but more practical route, as shown on the map above.

---