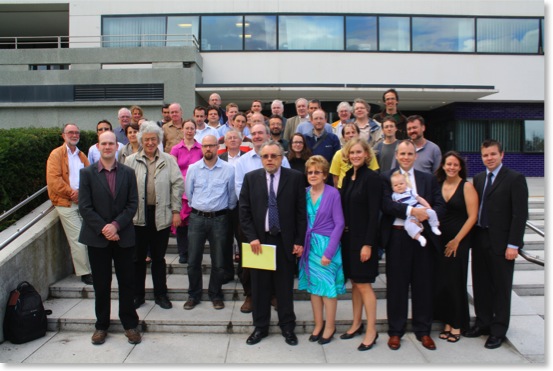 A two-day conference took place in University College Dublin on Thursday, 23 July and Friday, 24 July 2009 to mark the 65th birthday of Professor David W. Lewis.
There were a number of talks on topics related to, or inspired by, David's research on central simple algebras with involution, quadratic and hermitian forms.
On Thursday afternoon Professor Jean-Pierre Tignol presented a talk about David's work, aimed at a general mathematical audience. Professor Rod Gow chronicled David's life and work in UCD. Other contributions were made by Dr Chris Boyd, Professors Tom Laffey, Ted Hurley and Colm Mulcahy. David himself entertained us with episodes from his working and family life. The afternoon was concluded with a short film, featuring a number of David's friends and colleagues from across the globe, who could not be present in person and who wished him well in his retirement.
Invited Speakers
Jaka Cimprič (Univerza v Ljubljani, Slovenia)
Anne Cortella (Université de Franche-Comté, France)
Detlev Hoffmann (University of Nottingham, United Kingdom)
Seán McGarraghy (University College Dublin, Ireland)
Susanne Pumplün (University of Nottingham, United Kingdom)
Anne Quéguiner-Mathieu (Université Paris 13, France)
Andrew Ranicki (University of Edinburgh, United Kingdom)
Carl Riehm (McMaster University, Canada), also a Mystery Guest
Jean-Pierre Tignol (Université catholique de Louvain, Belgium)
Jan Van Geel (Universiteit Gent, Belgium)
(Susanne Pumplün and Jan Van Geel were unfortunately unable to attend due to family illnesses.)
Mystery Guests, Virtual Guests and Special Guests
As a surprise for David, Mystery Guests attended whose identity was kept secret until the very end. They were: Igor Klep, Alex Prestel, Carl Riehm and Karim Zahidi.
Other guests included: Cédric Bonnafé, Ted Hurley, Kevin Jennings, Judith Millar, Colm Mulcahy, Vicky Powers, Rachel Quinlan and Richard Watson.
Among the "locals" were: Vincent Astier, Chris Boyd, Eimear Byrne, Anthony Cronin, Seán Dineen, Ronan Flatley, Rod Gow, Marius Ghergu, Mary Hanley, Kevin Hutchinson, Tom Laffey, Gary McGuire, Robert Osburn and James O'Shea.
Made a virtual appearance: Eva Bayer-Fluckiger, Ricardo Baeza, Patrick Brosnan, Andrew Dolphin, Skip Garibaldi, Jens Hornbostel, Max-Albert Knus, David Leep, Ivan Panin, Parimala, Albrecht Pfister, Klaas-Tido Rühl.
The Thursday afternoon was witnessed by very special guests: David's wife Anne, their sons, daughters-in-law and grandchild: Alan and Kelly with son Conor, Stephen and Suzi, Gareth and Allison.